Thinking of hiring a skip?



Let us see if we can help you first.
We make it simple.
Most people have no idea what skip size they need and when they hear the prices just go for the cheapest one and regret it later. Ever noticed a skip by the side of the road with doors jammed down the sides so the hirer can fit more in? Like the skip hire firm is not going to notice and refuse to take the skip until some is removed?
Chances are that person will have to foot the bill for a second skip, and when you are talking about hundreds of pounds each, it's a costly mistake to make.
If a skip is to be placed on the road, council owned lane, pavement or verge then you are going to need a permit. This is an extra cost you have to bare on top of the price of your skip (Cardiff is £67.00 2015/16), this can take time to obtain and cause delays, as you have to wait for one to be granted (or rejected).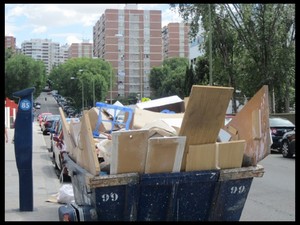 How we're different.
We can visit your property and offer you a free, no obligation, firm quote before work starts, so there's no guessing. If you need an idea before we visit just give us a call (or email us) to describe what you have and we'll provide an estimate over the phone. We can visit at a time suitable for you, we can often attend evenings & weekends and even view the waste if your not present if it's accessible without access. We can then call you back with a quote. There is no permit needed for our service, so no extra charges or delays.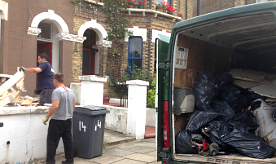 We save you money.
If you would have needed a permit we've already saved you £30-£67 before we even start. On top of that we look come within the price a skip would have cost you for the quantity of waste you have (even though we'll be doing the work too!), we'll take a look at what you need to get rid of and equate it to how big of a skip you would have needed should you have hired one. We then price accordingly, our vans typically hold the equivalent of 2 large builders skips so you'll have something to gauge this with at the end. But we offer an honest and fair appraisal before work starts, one that you can reject or accept.
Another way we can save you money is by fair judgement. If you fill a skip it doesn't matter what you fill it with, it's full and you pay. We can make allowances for things like cardboard or scrap metal etc. They don't cost us anything to get rid of so we can offer a reduction in price if they form a large portion of what you are throwing out.  
We try to be as fair and measured as we can be. We cannot tip at council yards as a commercial waste carrier we have to pay to dispose of the waste. Different types of waste go at different rates. For example General mixed waste goes at £156 per tonne where as cardboard can be tipped for free. 
So we recycle as much as possible to avoid paying the hefty top tipping rate..... We take the wood to the wood recyclers..... The cardboard to the cardboard recyclers...... etc. This helps us to be kinder to the environment and keep our prices low.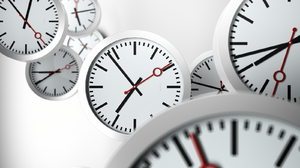 We save you time.
You get two guys to do the loading included in the price!! We can usually arrange a time to visit that suits you, we understand that you're busy and try to be as accommodating and flexible as possible.
What can and can't be taken.
Typically this service is designed to cater for light mixed household, general wastes, furniture, bric-a-brac or light construction (examples below). We can take paint, tyres and most electrical goods. Plasterboard must be kept separate, it's banned from landfill and can no longer be taken as rubble, but we can take it if it's not mixed with anything else. 
If you have heavy waste such as tiles, stone, brick or soil we can take a reasonable amount, but it must be bagged and kept separate from other wastes. It's cheap to get rid of at around £12 per tonne, but if it's mixed with other things it has to go at £156 per tonne and it's far too heavy for that. We can carry around 1.5t at a time, this service is only designed for small amounts of heavy wastes. For example a kitchen rip out with 20 bags of clean tile and the rest being wood (and a small amount of junk) is just fine, a small breeze block/brick wall that could fit in a mini skip is fine. If you have large amounts of heavy waste a skip is going to be cheaper for you. We can do multiple trips but then our usual quoting model is adapted due to extra labour & fuel.
We cannot take fridge/freezers, old style TVs or hazardous/special wastes. We quite literally have nowhere to dispose of them.  The limitations in this last paragraph but including plasterboard & paint usually apply to skips also.
Please bare in mind that when we quote we can not always see everything that is contained in a pile or assess every corner or individual item. It is possible for us to miss the presence of any of things above, including heavy waste. If this happens it's our policy to offer to leave the items rather than alter the price quoted. We will not re-quote unless asked. While most customers understand the reasons behind a renegotiation on finding a specified item others get quite upset, so we find it easier to offer for the items to remain.